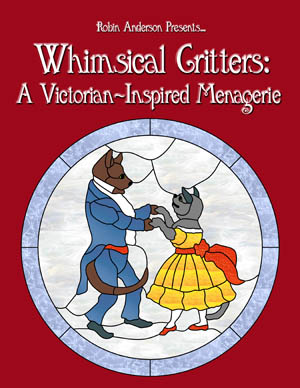 Whimsical Critters takes you on a journey of Victorian fantasy and imagination! In this unique pattern book, you'll encounter dancing cats, dapper dogs, elegant frogs, sophisticated pigs, birds of especially fine feathers, and mice who are simply the height of fashion. You'll meet lions and bears (no tigers, alas!), take tea with the Lamb Family, and discover that "barnyard" animals can be the life of the party. 30 patterns in all!

Drawn from a private collection of Victorian greeting cards, trade cards and illustrations, this gathering of animal elegance and whimsy is sure to delight. And it's sure to prompt a host of gift ideas, for we're betting you can't help but look at these images and think, "That kitty reminds me so much of my mother/mother-in-law/aunt," or "That pelican fisherman would be perfect for Dad/Grandpa/Uncle Bob!"

Order from Amazon · Download the Extended Electronic Edition today!