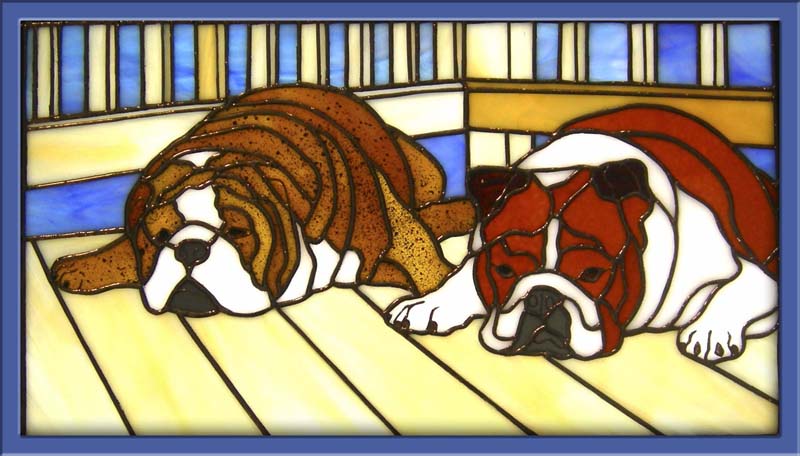 "OH MY GOSH -- IT IS BEAUTIFUL!!!!!!!!!!!!!!!!!!!!!!!!!!!!!!!!!!!!! You did a wonderful job on the entire glass. It really does look like Meatball and Johnny -- and the color for Johnny turned out really great. You really came through with a great color and it does look like him. Everything arrived safely and I loved the way you have packaged it. You are amazing -- that is for sure. I am sure I will be bugging you again one day to do another one of either one of our deceased dogs or as a gift for someone else. I definitely appreciate all of your hard work to make this panel so PERFECT. THANK YOU, THANK YOU, THANK YOU!!!!!!!!!!" -- Linda S., Maryland
"I absolutely love the panel and I can't wait to give it to my friend this weekend. I am sure it will bring tears to her eyes. I am thinking that you will probably be doing more projects for us in the future. Mollie thanks you from Doggie Heaven!!" -- Chris J.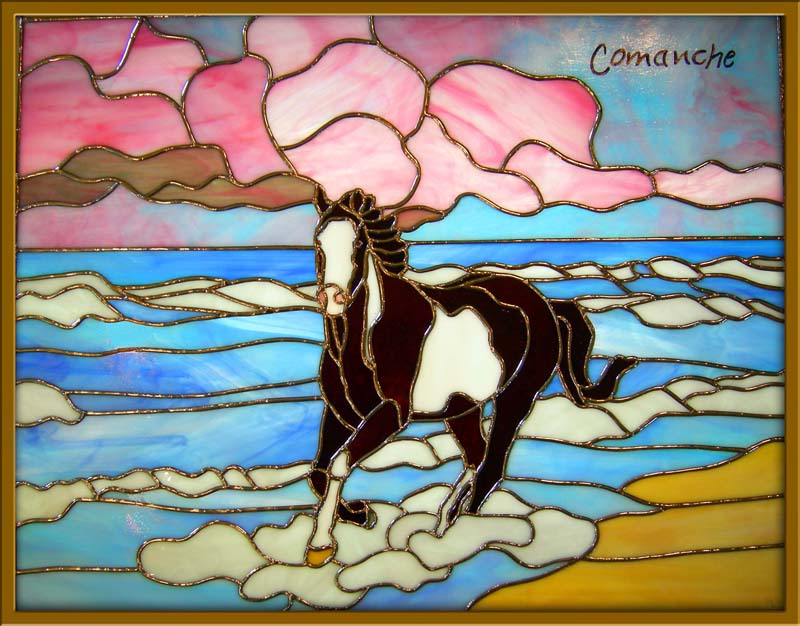 "OMG! There aren't adjectives to express the sheer beauty of Comanche immortalized! It's magnificent! It's fabulous! It's a masterpiece! I absolutely love it!!!! Oh, my, oh, my!!!!!!!! THANK YOU FOR CREATING THE PANEL FOR LITTLE OLE' ME!!!!!!!! It is fabulous, Robin! Each person that has entered my office has commented on its awesomeness. There's no doubt it will be quite the conversation piece. Smile!!! THANK YOU!! THANK YOU!!!! THANK YOU!!!" -- Deb K., Wisconsin
"My husband opened his gift and it was beyond what we could imagine. It was a really wonderful moment although we cried our eyes out (but in a good way!). I feel Sebastian will always be with us and we have a bay window with 5 panes and it fits perfect in the middle. Thank you again, you have no idea how special this is for us." -- Amanda E., Minnesota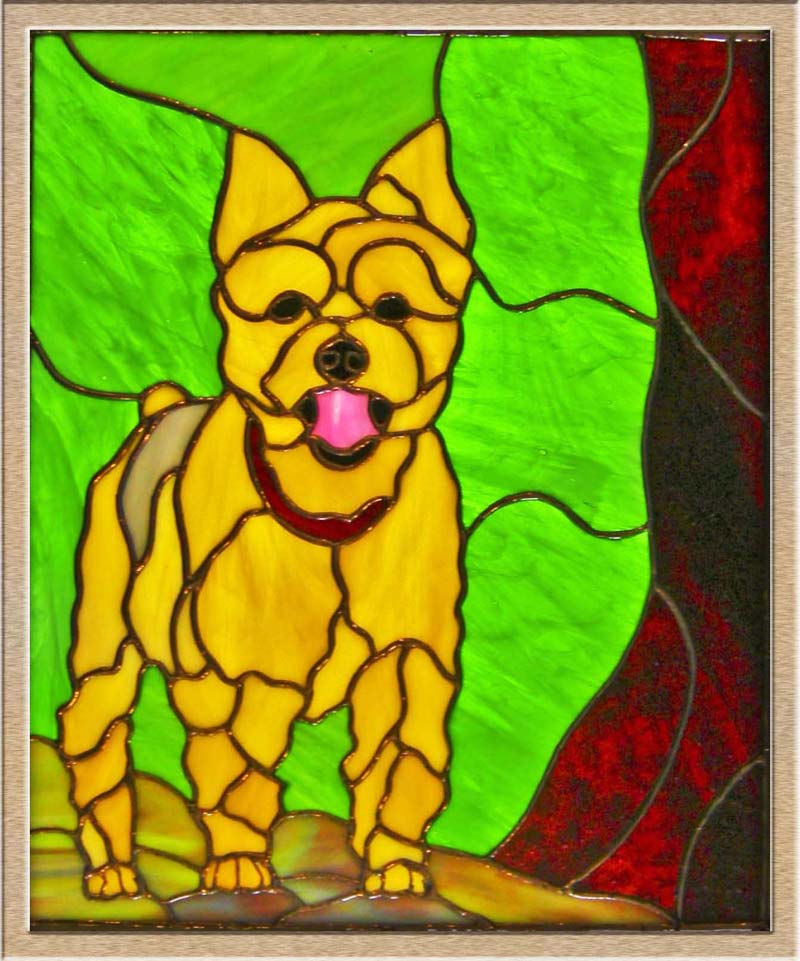 "Everybody loved the panel of Mooch! It really looks fantastic. She was so surprised and happy, and knew exactly which picture it was taken from. The recipient also has taken a class in stained glass, so she appreciated the craftsmanship, how all the soldering lines were of even thickness, and all the curved pieces. It was a hit! Great job, I've passed your website on to a few others as well, so hopefully you will get some more business as well." -- Rachael B., Illinois
"My husband and I took our friend to dinner last night and gave her the stained glass window. She was perplexed when she started opening the present. Then she was speechless and crying. She finally said, 'He's beautiful.' My husband and I couldn't stop smiling. Thanks again. What a miracle I found you thru your sister's writing column!" -- Judythe G.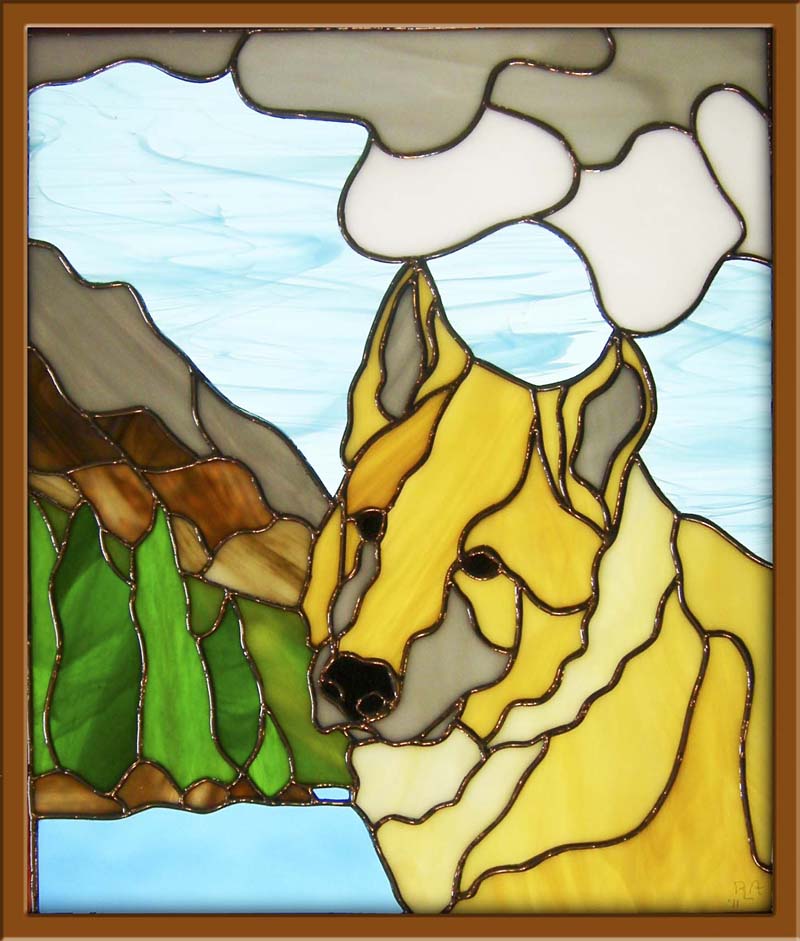 "Steve absolutely loved the panel of Mythos! He thinks he's finally decided where he wants to put it... upstairs in the office and you can see it from the street, too. I can't wait until I can go down to see them to see it in person. Thank you again for doing such a fabulous job on it. Steve said it looked just like Mythos!" -- Antonina C., California
"My box arrived this morning perfectly safe. I was absolutely delighted. It's beautiful. It's Poppy to a T and I love the way you've done the eyes. Now I just have to think where to put it so it's safe but seen." -- Diana H., UK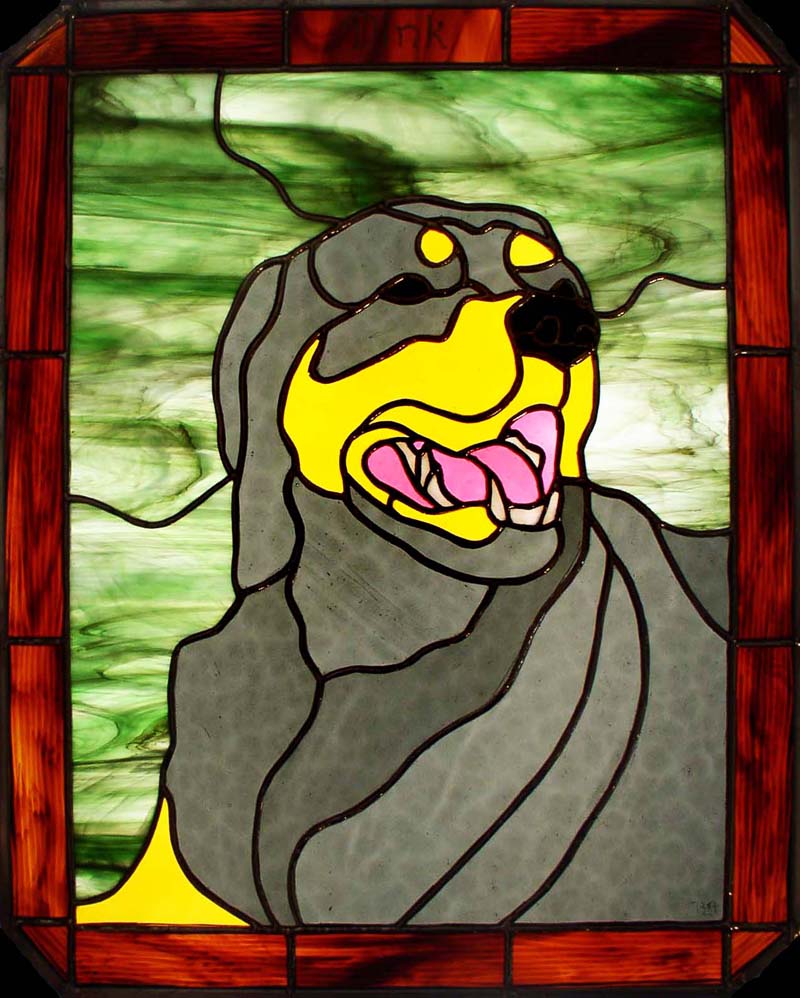 "My dear friends commissioned a piece for my Dink, who five months ago today was laid to rest after his valiant fight against lymphoma. We are still grieving for my beloved boy, he was 9 years old and a magnificent part of our family. He was trained in advanced off leash obedience, advanced agility, schutzhund and he was 'our boy'. Thank you from the bottom of our hearts! I have put a photo of Dink's Memorial on my FaceBook." -- Kelly M.
"It's absolutely beautiful! You captured Amber's spirit. Thank You soooooo much!" -- Lynn M., Florida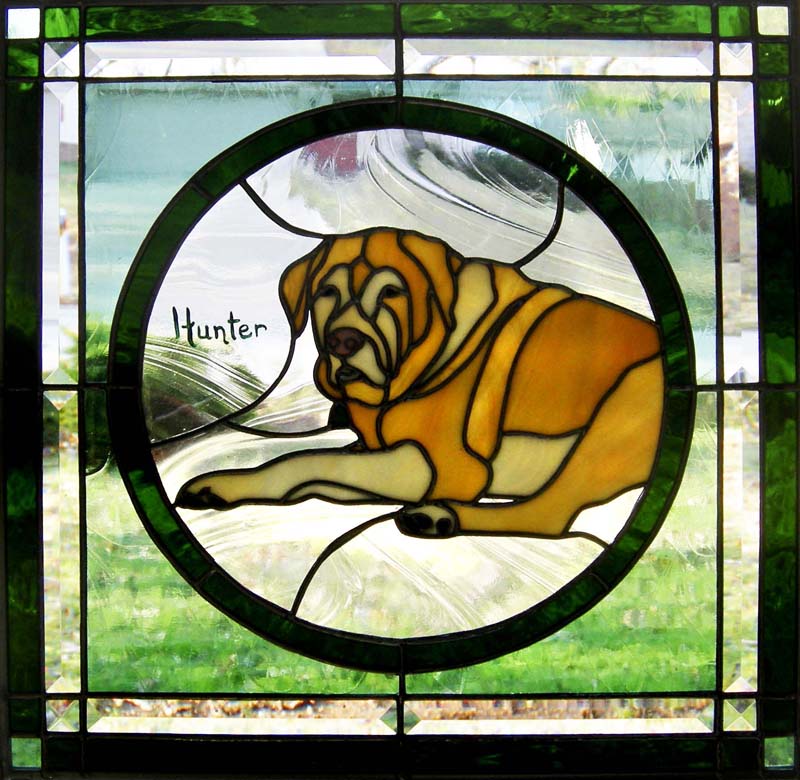 "I just wanted to let you know they loved the Hunter panel. Hunter's 'mom' had tears. I could tell the whole family was just so shocked -- they weren't expecting anything and then it was this beautiful memorial of their Hunter and they really were emotional about it. Their 9 year old boy said 'can I hang it in my room?' Thanks again -- it was truly a hit!" -- Dana T., Virginia
"I cannot thank you enough for the beautiful stained glass. It will bring tears to the eyes of my friend who lost her dog. Best wishes that the days ahead are filled with only fun laughter and peace." -- Kathy A., Illinois